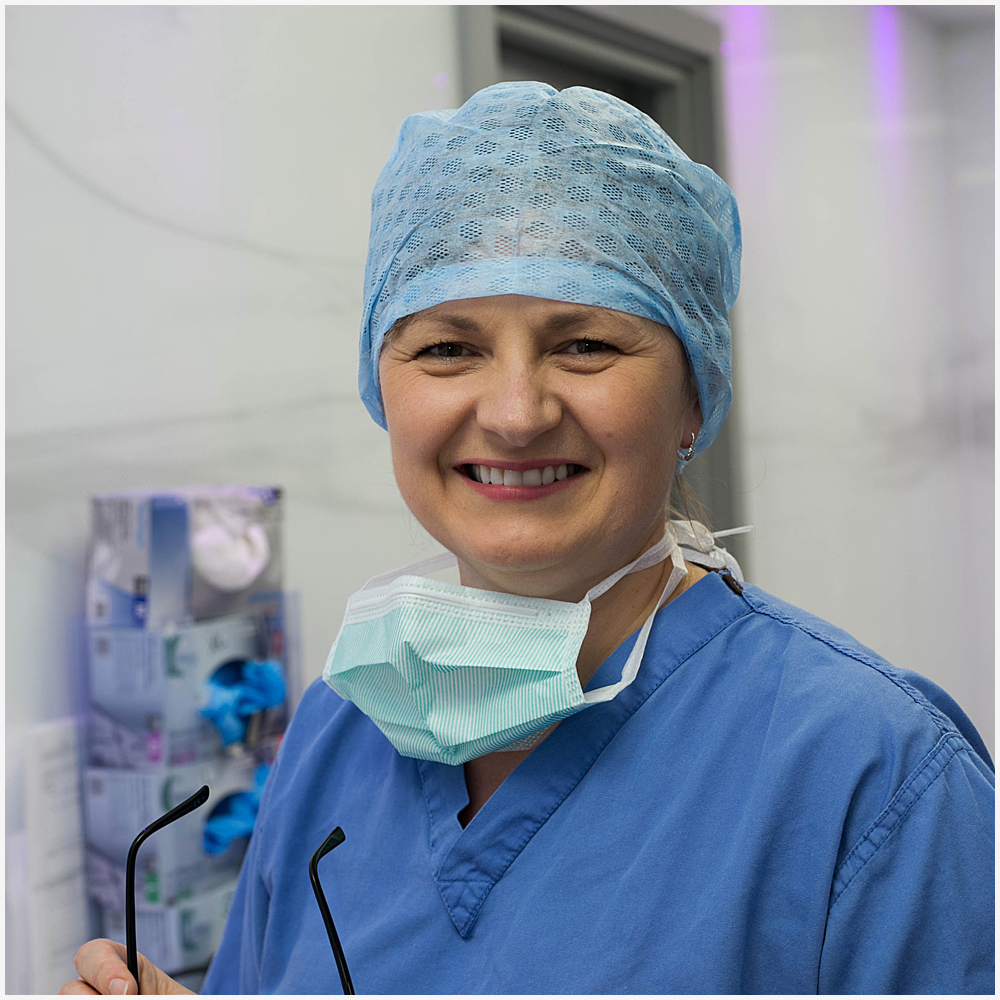 MS ANNA MOON
Consultant Orthopaedic Hand Surgeon MD PhD
Ms Anna Moon is a highly qualified Consultant Hand Surgeon who has been based in the Worcestershire and Warwickshire region since 2005. Anna took the decision to leave the Worcestershire NHS Trust in 2016 to enable her to focus on specialist hand treatment tailored to the needs of the individual. This decision ensures a truly customer focused service with the individual patient needs at the forefront of everything she does.

She wrote her PhD Thesis on microsurgical techniques in hand surgery. During her career she has trained extensively across Europe with specialists in hand surgery and microsurgery and performed more than one hundred replantations (microsurgical re-attachment of amputated hands and fingers).

During her eighteen month sabbatical at a hospital in Abu Dhabi, United Arab Emirates, Ms Moon worked with plastic surgeons on complex hand injuries including microsurgery. She routinely performs a range of procedures including Xiapex injection for dupuytren's contracture, tendon and ligament repair, microsurgical nerve repair, dupuytren's fasciectomy, carpal tunnel release, bone fixation and wrist arthroscopy.

She has presented and run courses at many national and international forums and published articles in Orthopaedic journals. Anna was also recently appointed as a Visiting Senior Lecturer at Aston University.

Ms Anna Moon is married to Nick Moon, a company director. They have eleven year old twins, Sophie and Charlie and Rosie who is nine. When not working, Ms Moon enjoys walking, gardening, cooking and outdoor living such as cycling and skiing.
Dear Ms Moon, Thank you for your kindness shown during my visits to your clinic with my hand. Your professionalism and kindness made me feel relaxed and at ease for the treatment I required. Many thanks again!Pat D

Dear Ms Moon and all her team in the theatre on Monday 2nd February. Thank you for your warm embrace and absorbing my idiosyncrasies, ego and vulnerability with such grace, dignity and humility, transposing my apprehension into extra-ordinary elation filled with inner strength, confidence, joy and well-being whilst everyone showed great kindness, care, compassion, understanding and patience. With best wishes and kind regards Sue M

Dear Ms Moon, I am so pleased with the result of the operation to my right hand which you performed in December. Every day I find myself thinking how easy it is to write with a pen, to perform my work as a dentist, and to do the weeding in my overgrown garden! Also it is a relief to have no pain from the joint. I wanted you to know how pleased, happy and grateful I am for your care. Margaret B

Dear Ms Moon, thank you to you and your team for your very kind attention during my recent surgery at Worcester Spire hospital. I am gradually getting the use and feeling back in my thumb and am delighted to be without the lump. Sheelagh K

Dear Ms Moon, thank you for your kindness and professionalism. You are a ray of sunshine. Pat H
SPECIAL CLINICAL INTERESTS:
Carpal tunnel syndrome, Dupuytren's contracture – Fasciectomy and Xiapex injection, Rheumatoid hand, Joint replacement, Trigger finger, Ganglion, Microsurgery, Nerve surgery, Fracture fixation, Ligament reconstruction, Wrist arthroscopy
Professional Memberships:
British Society for Surgery of the Hand (BSSH)
British Orthopaedic Association (BOA)
British Medical Association (BMA)
GMC MEMBERSHIP NUMBER: 6127152
YEAR OF FIRST MEDICAL QUALIFICATION: 1994
Tissue regeneration project ( Co-investigator )
Cultivated autologous osteoblasts and chondrocytes in the treatment of non-union and chondral defects.
Co-workers: Svihla R, Cellar R, Vasko G. Collaborator : Dr Rosocha J, Tissue Bank, University Hospital, Kosice

VEGF project I (Clinical Research Fellow)
The expression of vascular endothelial growth factor (VEGF) in human periosteum in response to fracture.
Co-workers: Mr Henry Bourke, Ms Ines Reichert MRCS, MD,PhD
Collaborator: Dr Ann Sandison, Consultant Histopathologist, Charing Cross Hospital, London, UK

VEGF project II (Clinical Research Fellow)
Is pattern of VEGF staining different in the avascular fracture part of displaced intra-capsular farctures neck of femor?
Co-workers: Ms Ines Reichert, Mr Toby Evans
Collaborator: Dr Ann Sandison, Cons.Histopathologist, CXH, London, UK

Row and Column type of wrist (Research Fellow)
Study on normal healthy volunteers-measurement of the lenght of the scaphoid and the degree of scaphoid translation
With Mr Nicholas Goddard, Royal Free Hospital, London,UK

AlgRx Project I & II ( Co-investigator )
Safety and efficacy of the intra-articular injection of Capsaicin prior to total knee replacement
With Professor S P F Hughes, Ms Ines Reichert and Dpt. Of Musculoskeletal Surgery at CXH and RPH
Collaborator: AlgRx Pharmaceuticals To be published in the Lancet shortly

MACE Project (coordinator)
Intranet project connecting operation theatres, out-patient clinic, pre-admission clinic, patient notes, hospitals (video, pictures, documents, animations) with the latest references available
With Professor S P F Hughes and RPH Hospital London, UK

AlgoRx Project III (Consultant)
Safety and efficacy of a single injection of Capsaicin in subjects with acute lateral epicondylitis
With Prof.Vasko and Department of Orthopaedic and Trauma Surgery, University Hospital, Kosice and Dr Stasko and Department of Orthopaedic Surgery, 1st Private Hospital, Kosice
Collaborator: AlgoRx Pharmaceuticals

The Molecular Genetics of Dupuytren's Disease –G.O.O.D study
Oxford Research Ethics Committee B
09/H0605/65
2011-2012
Participation in the study to find out the genetic basis Of Dupuytren's disease.
Presentations and Publications
Scerbakova A∗, Vasko G
The effect of reconstructive surgery of the hand on the length of recovery after hand injury.
4th International Meeting on Hand Surgery, High Tatras, Slovakia, October 1996. Published Abstract

Scerbakova A∗ ,Vasko G, Stasko I.
Reconstructive hand surgery – a five year review.
Central European Meeting of Orthopaedic Surgeons, Bratislava, Slovakia, January 1996.

Scerbakova A∗, Vesely J, Stasko I, Vasko G.
Reconstructive operations after loss injury of the soft tissue of the foot.
International Symposium on Hand Surgery,Tabor, Czech Republic, November 1997.

Scerbakova A∗, Nemec P, Bielek J, Vasko G
Free vascularized bone graft for bridging large bone defect after resection of tumour of the tibia. Case report.
International Orthopaedic Meeting, Bratislava, Slovakia, January 1998. Published Abstract

Vesely J,Scerbakova A∗, Vasko G.
The role of microsurgery in Orthopaedic Surgery.
International meeting hosted by the Slovakian Orthopaedic Society, Kosice, Slovakia,October 1998.Published Abstract

Scerbakova A∗, Sekac J, Bielek J, Hunar M.
Toe to hand transfer - Morrison around flap.
The Slovakian Orthopaedic Society Meeting, Kosice, Slovakia, October 1998.Published Abstract

Scerbakova A∗, Vasko G., Sidor Z.
Evaluation of replantations with regard to duration of treatment and sick leave.
Acta Chir. Orthop.Traum.Cech.;65, No.3: 165-166; 1998

Vasko G, Scerbakova A∗.
Surgical management of aseptic bone necrosis.
8th Orthopaedic Conference, Hradec Kralove, Czech Republic,October 1999.

Vasko G, Scerbakova A∗, Svihla R.
Bone grafts.
Annual meeting of the Czech Society of Orthopaedic Surgeons, Karlovy Vary, Czech Republic,1999.

Kralikova L, Scerbakova A∗, Filka V, Kalnasova B.
Use of local anaesthetics in microsurgery of the hand.
6th meeting of the Slovakian Society of Anaesthesiology, Kosice,1999.

Vasko G, Scerbakova A.∗
Prophylactic use of antibiotics in Orthopaedic Surgery.
SICOT Meeting, Sydney, Australia, April 1999. Published Abstract

Scerbakova A∗, Vasko G.
Contemporary outlook at femoral head avascular necrosis. Part I & II.
Slovensky lekar,10,(24) rocnik, No.3-4: 104-109; 2000.

Rosocha J, Vasko G, Bacenkova D, Hrbkova H, Svihla R, Cellar R, Scerbakova A∗, Bielek J, Nemec
Our experience with autologous osteoblasts and chondrocytes preparation for therapeutic use.
EATB 2001 conference, 10th Anniversary Meeting, October 2001, Eilat, Israel. Published Abstract

Scerbakova A∗, Vesely J, Sekac J, Totkovic R, Vasko G.
Plegia of plexus brachialis – microsurgical transfer of m.gracilis
International Meeting on Hand Surgery, November 2001, Brno, Czech Republic.

Rosocha J, Vasko G, Bacenkova D, Hrbkova H, Svihla R, Varga G, Jenca A, Cellar R, Bobak L, Kladekova Z, Bielek J, Scerbakova A∗, Nemec P.
Preliminary clinical experience with the preparation and therapeutic use of autologous osteoblasts and chondrocytes.
Cell nad Tissue Banking 3: 127-132, 2002 Scerbakova A∗, Bourke H, Sandison A, Hughes S P F, Reichert I.
The expression of Vascular Endothelial Growth Factor (VEGF) in human periosteum in response to fracture.
Lipman Kessel Prize 2003, Charing Cross Hospital, London,UK

Hughes SPF, Moon A, Ayienuro S, Russell RC, McKenzie J
Intra-articular injections of ultra-purified capsaicin preceded by lignocaine in patients with osteoarthritis of the knee undergoing total knee replacement
Published in The Lancet

V Deans, T Hossain, H Whalley, M Arafa, A Moon, A Mahon
Is our hand trauma service hitting the British Society for Surgery of the Hand (BSSH) guidelines?
The online Journal of Clinical Audits. 2012; Vol 4 (4)

P Rosser, T A Wood, A Moon
Post-operative hand infection in Regional Hand centre serving rural and urban communities
Poster, 14th EFFORT Congress, Istanbul,Turkey, 5th-8th June 2013

Shastri O, Twaij H, Moon A, Mahon A
Are the BSSH guidelines achievable?
Presentation at BSSH meeting, October 2014, London

Oliver Shastri, Haider Twaij, Anna Moon
British Society For Surgery Of The Hand (BSSH): Are The Waiting Time Guidelines For Hand Trauma Achievable?
Poster Presentation, 16Th EFFORT Congress, Praque, 27-29 May, 2015